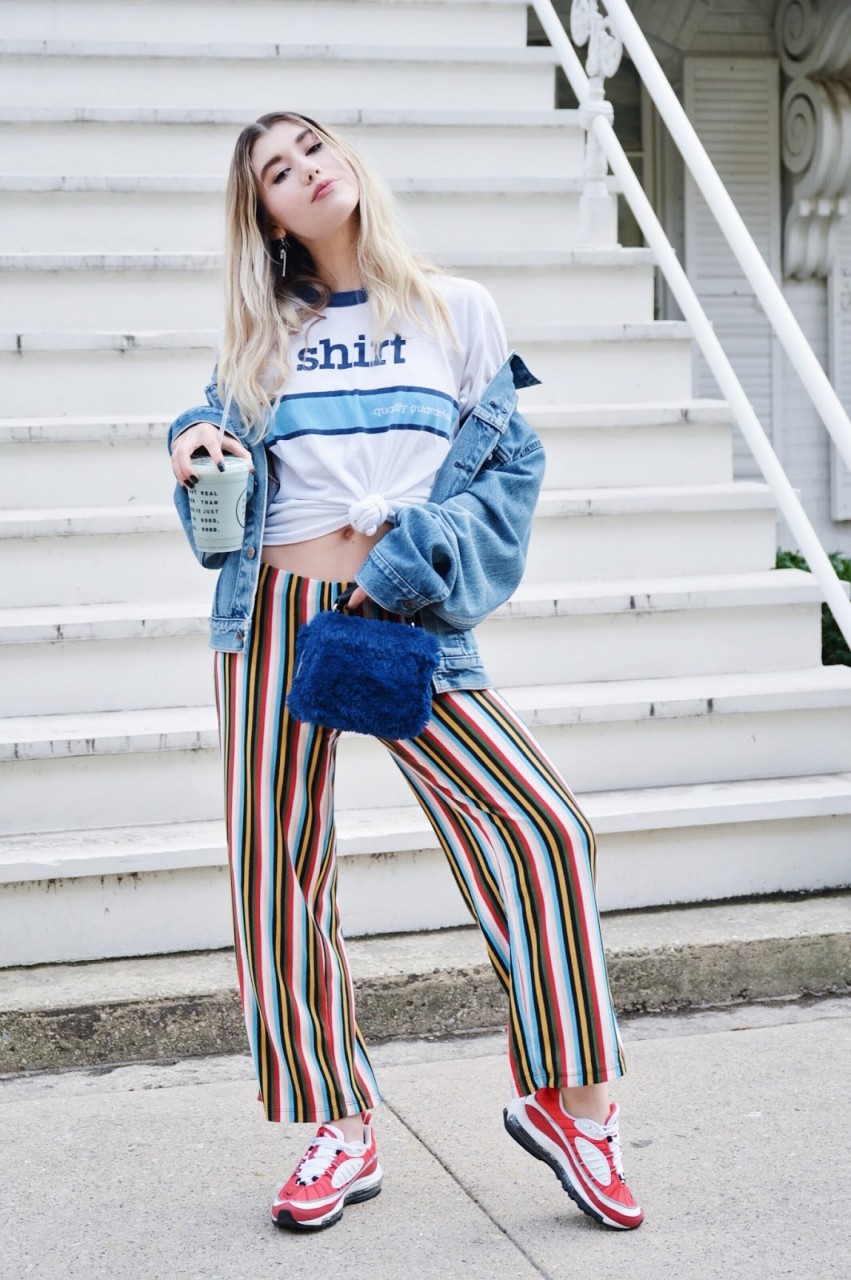 Hey Merbabes! What even happened this week? One moment I was living my best spring life, strolling around town with an iced match, the next moment I was shivering.  Classic Chi spring. 
Let's be real, I shouldn't be complaining too much because the only thing I really wanted to do was wear my cute new pants + I did just that.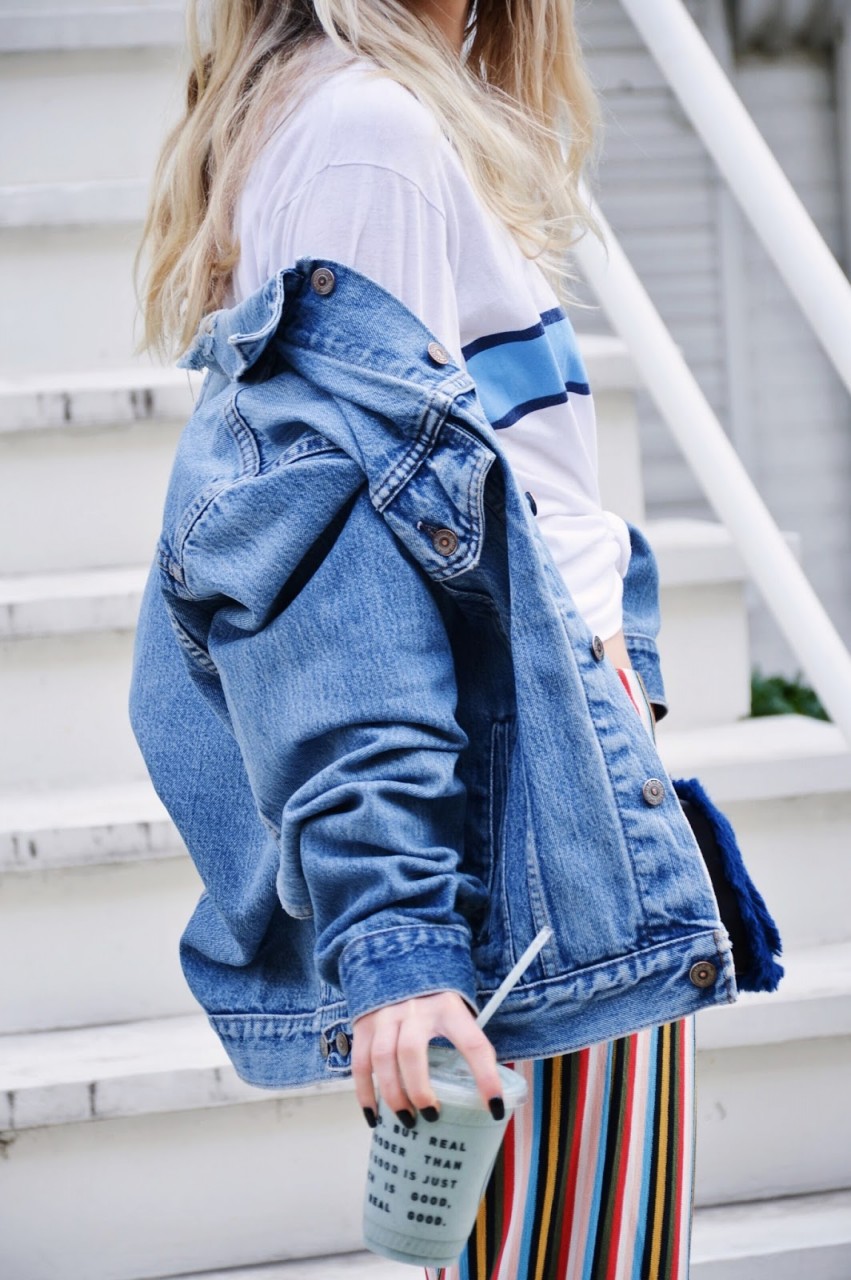 I love blue jeans, I love blue jeans, I love blue jeans.  I have 20+ pairs, they are my pant of choice, but sometimes I look at myself in the mirror + I'm like "bbgirl switch it up"!  So...I've been working on adding track pants + fun patterned pants into my rotation.  I grabbed a pair of
checkered pants
from Urban Outfitters a month or two ago that got a ton of likes on Instagram (if you're wondering if am I this shallow IRL, honestly yes) so I knew I has to snatch up some more fun pants ASAP.
These
knit rainbow pants
 are such a fun piece + a total blue jean upgrade (no offense I still love you jeans).  Plus the color palette is beautiful + can be paired with so many different pieces.  I played up the blue + red in the pants but you could pair this with yellow, pink, green, etc.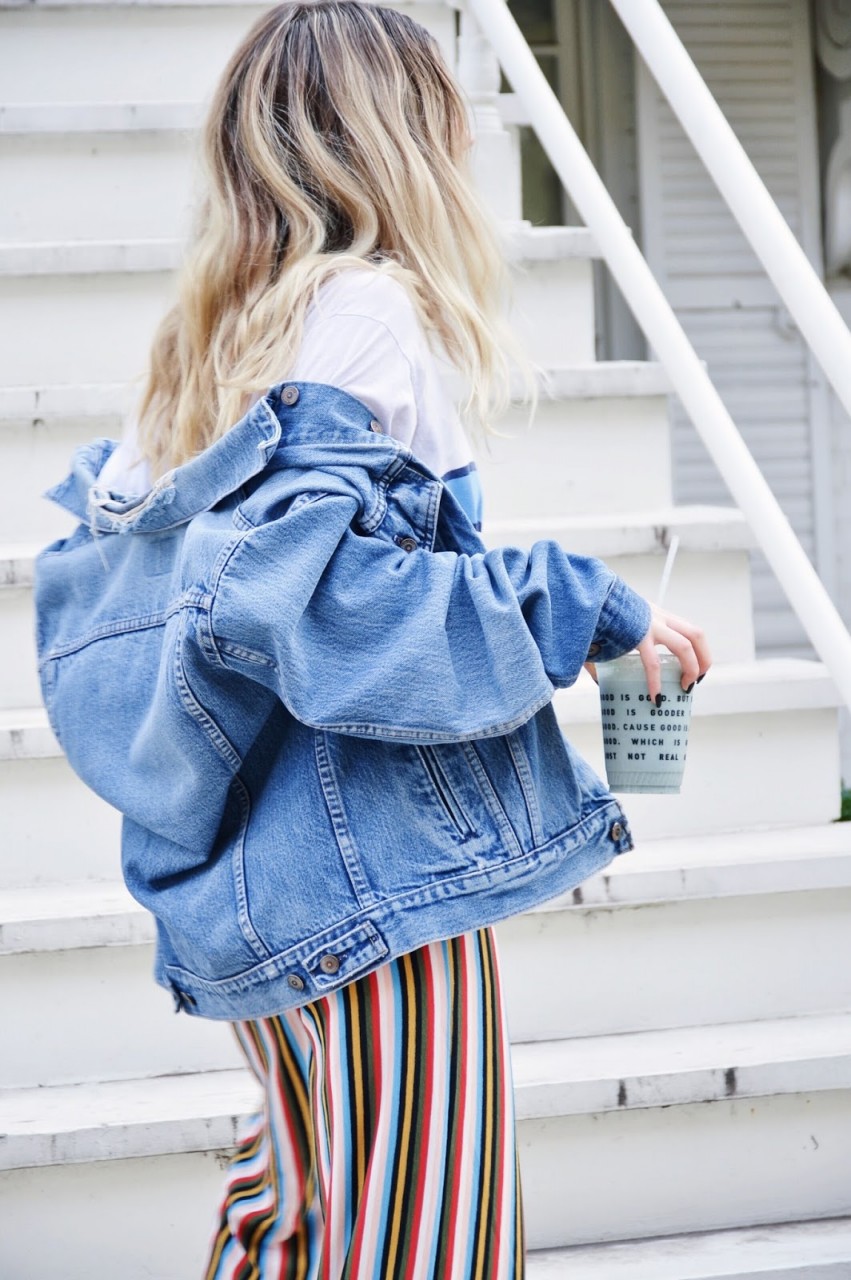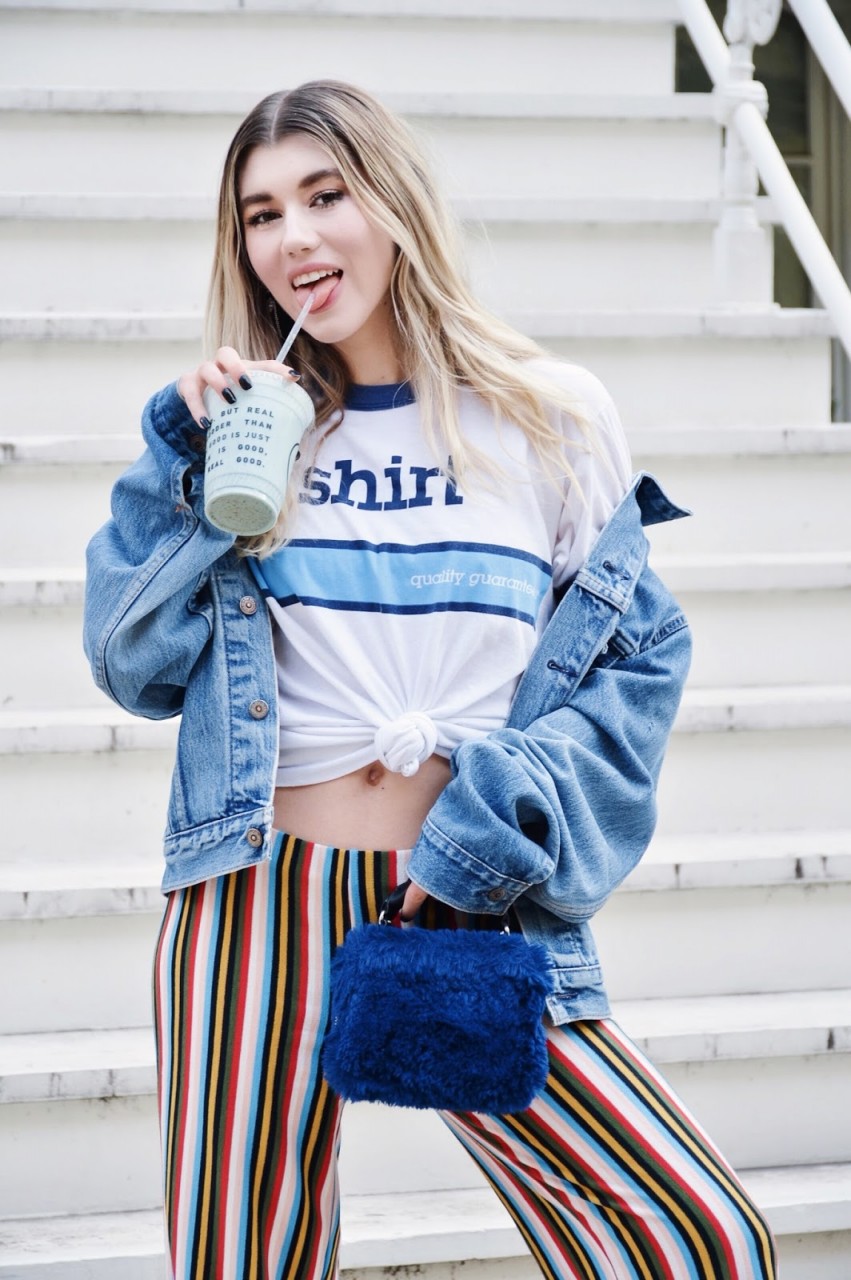 My 'shirt' shirt is my favorite graphic tee I own.  Its so meta.  Unfortunately this was found at a record store + not available at Urban Outfitters (yet), so I've linked some fun graphic tees I would pair with these
rainbow pants
, in the 'shop the post' widget above.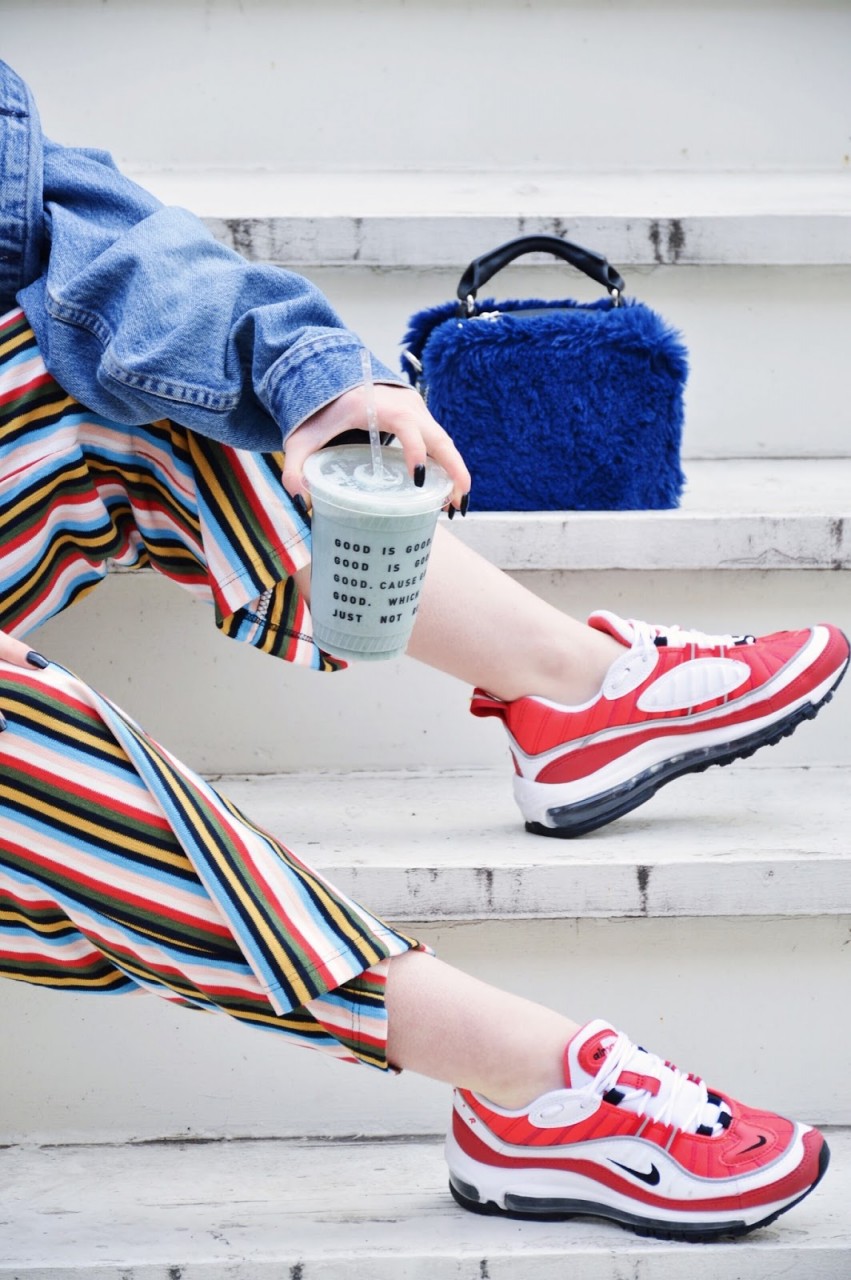 Throwing on a 
denim jacket
seemed to be the natural move since I wasn't wearing jeans.  I do this thing where I borrow clothes + then slowly (quickly) integrate them into my life, which is basically what I did with this denim jacket, and my other denim jacket, and most of my tees...you get it.    
I have been soaking up every opportunity that comes around to rock my Nike Airmax 98's, the slightest hint of red in an outfit means these babies must be worn.  This pair is no longer available but I've got a
whole roundup of my current favorite sneakers
for you to check out.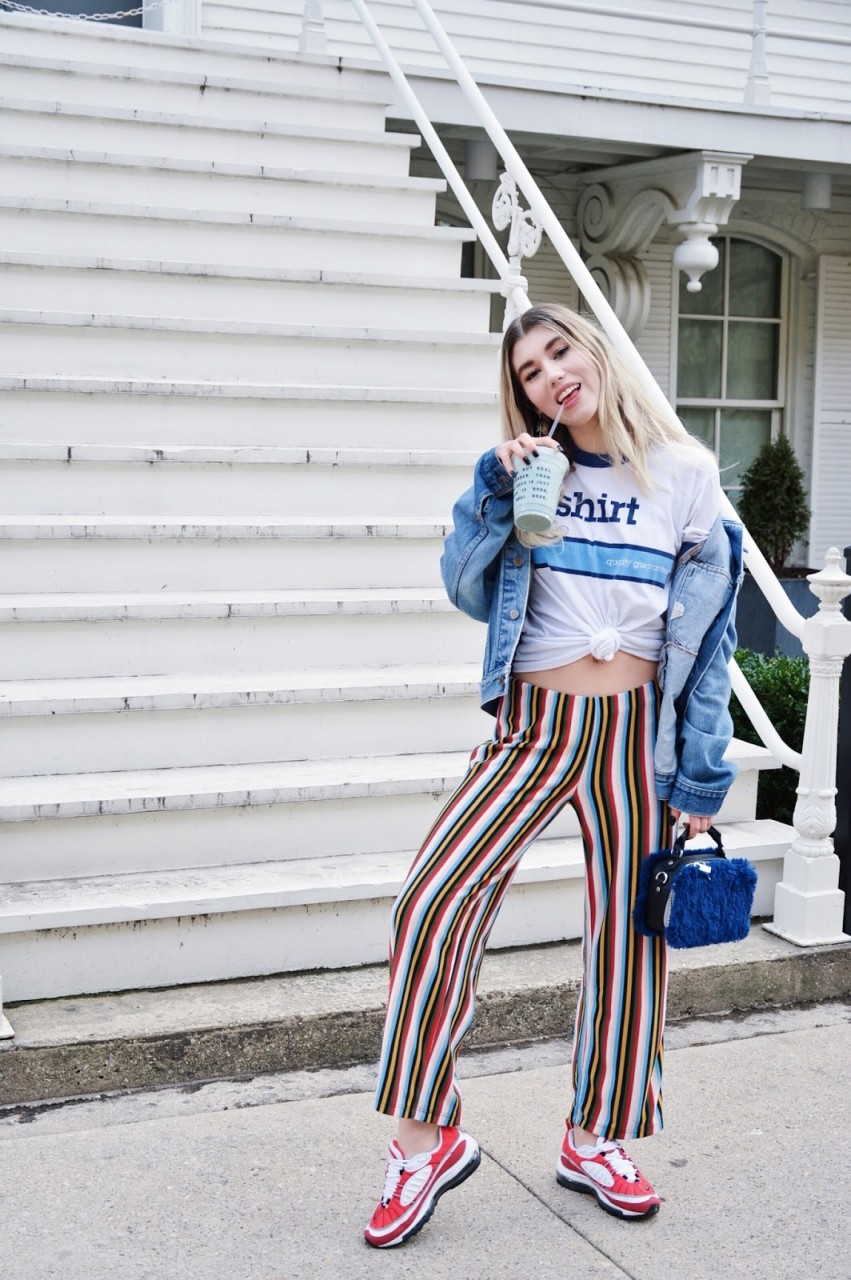 Last but not least, I finished this look with a mini faux-fur bag + a blue smoothie.  Fun fact: my blue smoothie is blue thanks to Blue Majik which is super rich in antioxidants + a powerful anti-inflammatory, this is one of my go-to drinks when I am super sore + achy.  
I hope your weekend forecast is looking better than Chicago's + you are blessed enough to rock rainbow pants! 
Have a wavy weekend babes!
---