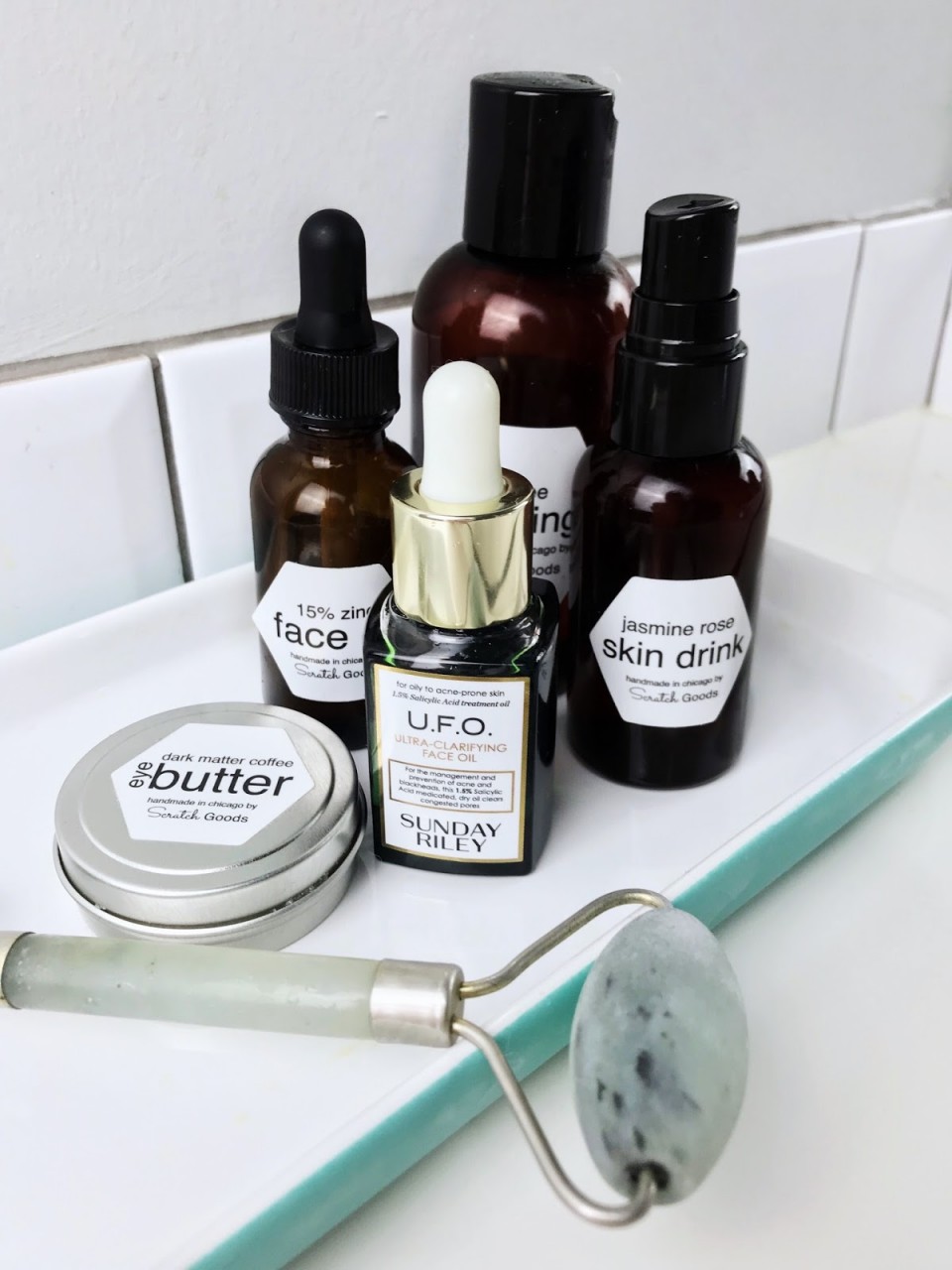 Hey mer-babes! It's been a moment since I did a skincare update so let's begin.  When I look back to where my skin was a year ago, I am in awe and so v proud of my face.  Obviously there are so many factors that play into your skin like stress, hormones, diet, etc...but I am v confident that my current skincare routine also plays a huge role.  If you live in the Chi you know it is dryyyyyy out here, but this is also one of the first years I haven't dealt with dry, flaky, skin.  My skin is g-l-o-wing babes, not trying to brag but like also I'm bragging.
Every night I start my skincare routine with an oil cleanse, I use the
tea tree cleansing oil
from Scratch Goods.  This is my one-step cleanse for my face, it takes off makeup in literally one go.  I take a huge drop in my palm and slather it on my face, always apply product to your face using upward and outward motions to train your facial muscles, now that I'm 20 its v important I am up on my anti-aging game.  Gently rub over eyes to remove all eye makeup.  Once your face is covered, grab a towel and run it under hot water to make an at-home steam towel.  Let towel cool slightly, then cover your face, hold towel on your face for 15-30 seconds, longer if you just need to zen out under a hot, steam towel for a moment.  Then begin wiping away the oil, the wiping action will not only remove all the oil but will also give you a gentle exfoliation.
If you aren't convinced on the whole
oil cleansing
thang, I'll leave you with this, oil sticks to oil.  With the help of a steam towel, the good oils in the cleanser will cling to the nasty, junk oils that are clogging your pores.  Simple as that.  Also, oil cleansing won't throw of your skins pH level as a soap does or strip your skin of healthy oils, which is essential for keeping your glow in the drier months.  The more good oils we can get the better.
After cleansing, I spray my face with
skin drink
from Scratch Goods.  Oils + serums penetrate deeper on wet skin, so a good facial mist is a must.  If you don't have a
facial mist
you can always add a bit of water to your face before applying oils.  I keep a mini bottle of
skin drink
in my purse at all times, its perfect to spritz your face or hair throughout the day whenever your feeling dry.
My next step is a newer one but after going through a full bottle and immediately running to buy another bottle I think it is an essential.  
U.F.O. oil by Sunday Riley
is a salicylic acid treatment in the form of an oil.  I have used all the acne fighting treatments, from over the counter creams + gels to prescription antibiotics, retinols... sadly I could keep going, and my skin was still a tragedy.  Looking back the reason that these products that other people swear by didn't work for me was because they were simply too harsh.  These products are made to dry out your skin, which for me lead to a huge overproduction of sebum which causes nasty breakouts.  This
U.F.O oil
is gentle enough that it doesn't cause any redness or burning, yet it keeps my pores clean and my skin tone looking more even than ever.  I for real haven't had a major breakout since I started using it.
I let my
U.F.O oil
soak in for a minute then I apply my
heavy face oil
from Scratch Goods (duh), because I love oil.  I apply this all over my face using outward + upward motions to massage the oil into my skin.  A face massage will help with product absorption and it is exactly what you need after a long day, divine.   If you're really feeling yourself, grab your
jade roller
and run it under hot water.  Take your warm jade roller and roll it around your face to open up your pores and let that oil do its thing.
In the mornings, I simply rinse my face with cool water, spritz with
skin drink
, apply
heavy face oil
and
dark matter coffee under-eye butter
under my eyes.  The under-eye butter is a great way to depuff any bags under your eyes.  While I am drinking my cup of green tea and eating my oatmeal, I grab my
jade roller
out of the freezer, where she lives overnight, and do a facial massage for extra de-puffing.
***A few other non-skincare related practices I do for clear skin include: limiting my dairy + sugar intake - for me this is a major cause of breakouts but I love a slice of pizza so I never restrict completely, and trying my bestest to keep my stress levels down, whenever I have a major stress induced freakout I wake up the next morning with redness and irritation.  I also wash my makeup brushes, change my sheets + towels often, and avoid wearing makeup when I know I will be sweating. ***
---