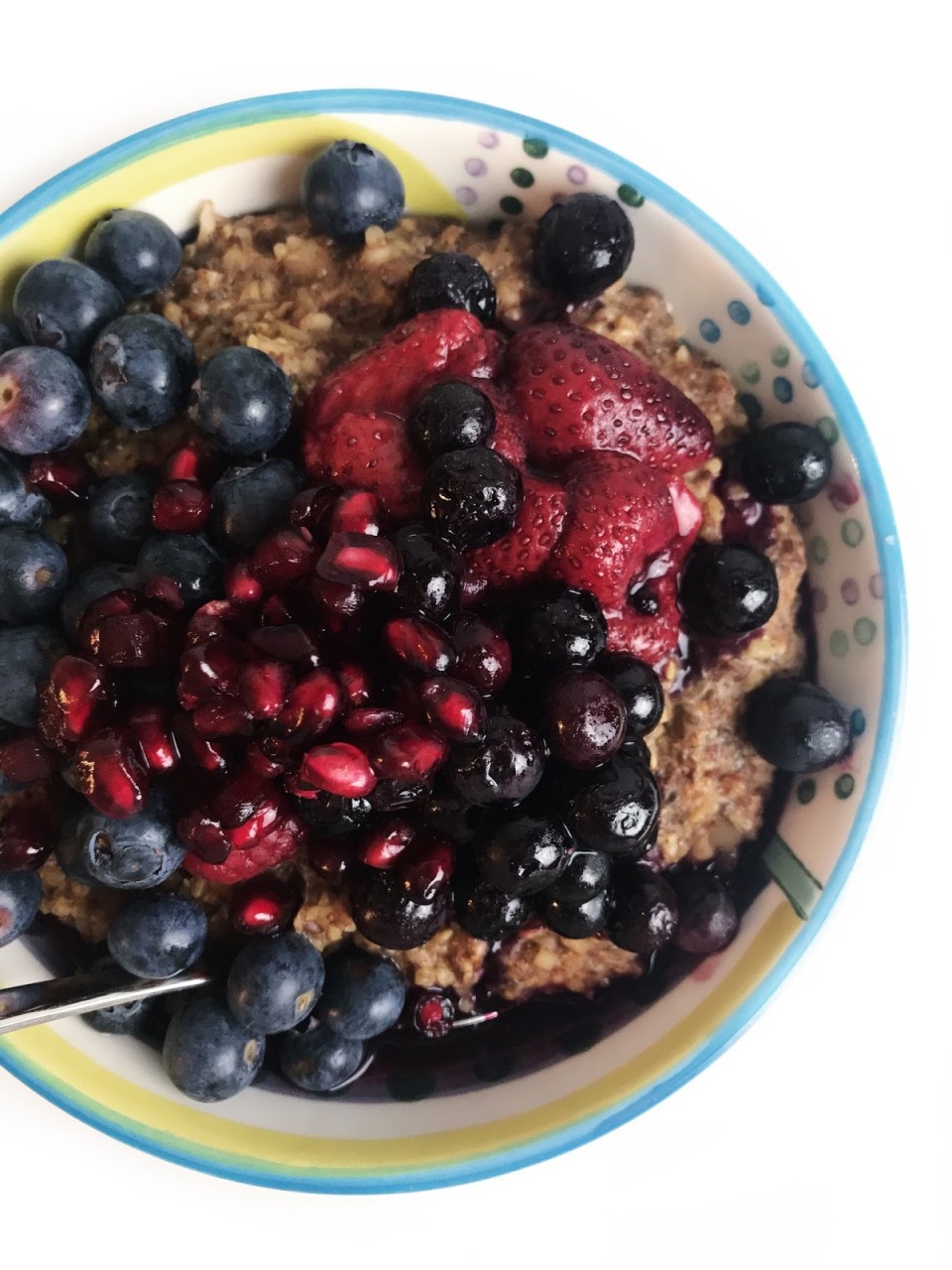 Hey Merbabes! I recently did a poll on my story to gather inspiration for my next blog post.  The overwhelming winner of said poll was 'what I eat in a week'! So here we are. I kept starting then stopping tracking my daily food intake because I was a little shocked by the amount I ate when it was written down on paper.  On Monday I decided to finally commit, I tracked everything I ate Monday-Friday and I am excited to share with you all!
A little background on my diet, I have been completely vegetarian for over five years now, meat wasn't a large part of my diet growing up so I don't miss it.  I keep my dairy intake on the low, it gives me headaches + pimples, so I save dairy for special occasions, like Jeni's Ice Cream + Kelly's (thats my mom) mac + cheese.   I truly believe in listening to your body for the answers to your dietary needs! When you listen to you body there is no need for unnecessary restrictions or counting calories.
With that being said, lets jump into day one!
Monday:
Breakfast:
Oatmeal. I eat the exact same breakfast everyday.  Everyday.  Steel cut oats with chia seeds, flax seed, apples, banana + pineapple.  Topped with berries + mango.  It's a lot of food + it's my absolute favorite way to start the day.
I also drink a cup of hot lemon water + hot green tea with my oatmeal.
Rehearsal Snack:
Dance rehearsals run right through lunch time so I always have a smoothie with me.   Monday's smoothie was made with frozen blueberries, raspberries, strawberries, beetroot powder,
Garden of Life Plant Protein Powder
, and Forager cashew milk.
Lunch:
Monday's I usually get home after 2 + make myself a quick leftovers lunch.  This week I was truly blessed by a fridge full of Easter leftovers.  I had dairy-free egg strata loaded with veggies + diced sweet potatoes.
Dinner:
Monday night dinners are my favorite of the week, because its rice + beans night.  I had brown rice, black beans, corn, avocado, and salsa!
Snack:
Since I did a late afternoon SoulCycle class I was hungry again a few hours after dinner.  I had peanut butter + jelly toast with my nightly cup of tea.
Tuesday:
Breakfast:
Oatmeal.  See above.
Smoothie:
frozen blueberries frozen banana, spinach, arugula, kale,  
Garden of Life Plant Protein Powder
,
Vital Proteins Matcha Collagen
, + Forager Cashew Milk.
Lunch:
I had a lunch date with momma at
True Foods
, one of our favorite spots!  We ordered cauliflower to share +  I ordered my go-to ancient grain bowl.  The grain bowl is topped with glazed sweet potatoes, snap peas, onions, mushrooms, and the best cilantro pesto.  With my grain bowl I ordered a cup of Ginger Tusi Tea, its the warmest, coziest cup of tea out there.
Dinner:
For dinner I threw red peppers, mixed greens, avocado, + salsa over leftover brown rice.  I love rice!
Snack:
Oranges, dark chocolate, cup of tea.
Wednesday:
Breakfast:
Oatmeal. Duh.
Lunch:
Sandwich with homemade hummus, mixed greens, red pepper, pickled carrots + onions. Sandwiches are a staple in my diet, I will never get over how good a PB+J is.
Dinner:
Snuck over to
Bad Hunter
for an early dinner.  This obviously consisted of their to die for veggie burger (sans cheddar) + fries!
Snack:
 Apples + oranges with a cup of tea.
Thursday:
Breakfast:
You already know.
Smoothie:
Same as Tuesdays!
Dinner:
Whole wheat pasta with kale, zucchini + walnut pesto, ugh to die for.  I just had a bowl of leftovers while writing this post.  Pasta is my favorite food, I could eat it every single day.
Snack:
 Apples, oranges, dark chocolate with a cup of tea.
Friday: 
Breakfast:
Oatmeal!
Smoothie:
Peanut butter, frozen banana, blueberries, arugula, spinach,
Vital Proteins Matcha Collagen
,
Garden of Life Plant Protein
, + Forager Cashew Milk.
Lunch:
Hummus with carrots, tomatoes, crackers + pretzels!
Dinner:
  Urbanbelly at home, obviously I had my favorite rice + veggie bowl with tofu.  This bowl is jasmine rice topped with arugula, eggplant, kimchi. cucumbers, tofu, spicy sauce, and the perfect soft boiled egg.  I can't go longer than five days without consuming this bowl.
Snack:
Homemade matcha chocolate, find the recipe
on Instagram
!
That's what my week of meals looks like.  This was a pretty basic week for me, and one where I ate pretty clean!  To be honest the week before was filled with ramen + tacos + I have no regrets! Balance + moderation is key. Eat well +  Eat lots! 
---